The Humber Bridge Sportive is back! On Sunday, June 12th, you can experience up to 61 miles of superb scenery and pure exhilaration as you ride alongside hundreds of cyclists to support those battling brain injury recovery.
This year, Humber Bridge Sportive founders Ian Nichols and Andy Cawley have chosen to partner with P.A.U.L For Brain Recovery for their fantastic annual cycling event. It's a huge privilege and a wonderful opportunity for P.A.U.L For Brain Recovery to work alongside such an inspiring team!
It

'

s an event for everyone.
The Sportive is an inclusive event with three different routes: 21 miles, 41 miles, and 61 miles. Each route starts from the Hesslewood Office Park and runs the length of the Humber Bridge before winding through the quiet, rural roads of Lincolnshire. It's an event where everyone can participate, from families to experienced cyclists! In addition to Feed Stations for all three rides, there will also be First Aid and mechanical support.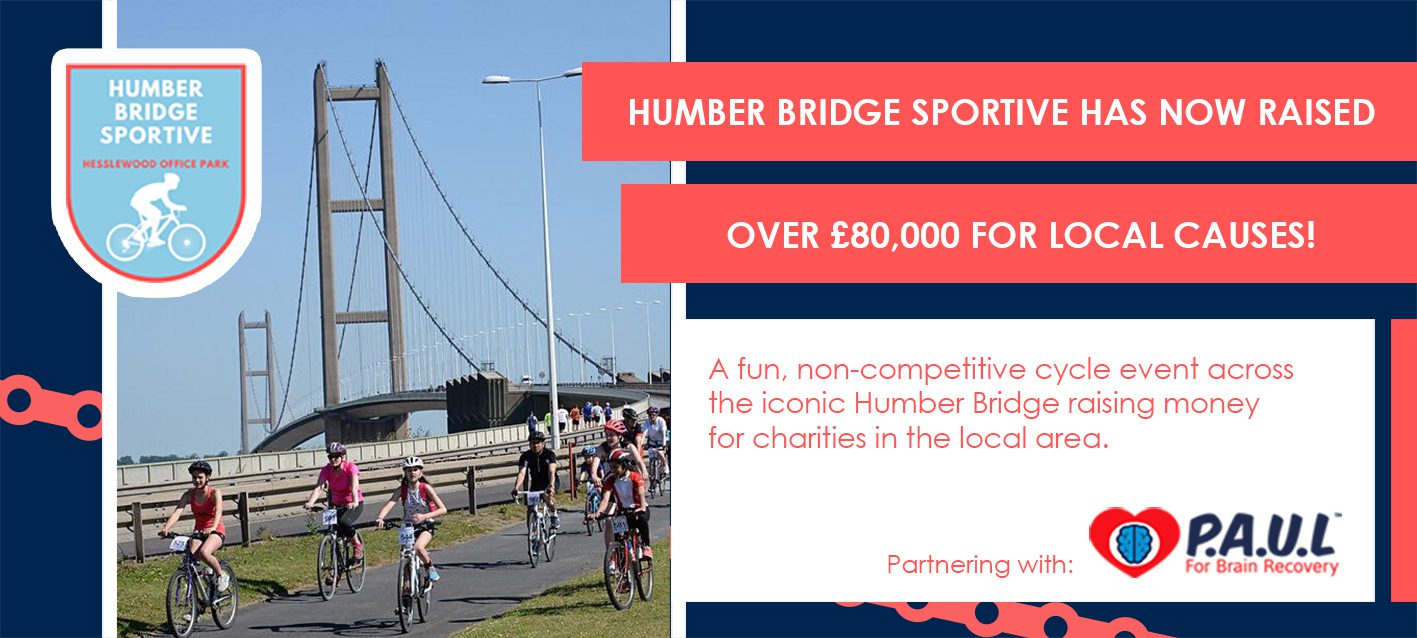 Friends and keen cyclists Ian and Andy established the Humber Bridge Sportive in 2014 as an annual event, which has raised over £80,000 for local charities. This year, even more local charities will benefit, including P.A.U.L For Brain Recovery.
P.A.U.L For Brain Recovery welcomes service users from both East Yorkshire and Lincolnshire. Without the iconic Humber Bridge, travel from Lincolnshire to Hull could be prohibitive, meaning many service users would be without the support they need and deserve after a traumatic, life-changing injury.
Paul Spence, founder of the charity, said, "P.A.U.L For Brain Recovery is delighted to be partnering with the Humber Bridge Sportive as it will make such a difference to the local community. Every 90 seconds, one person is admitted into hospital with an Acquired Brain Injury in the UK. The impact can be significant for individuals and families. Lives can change forever. At the charity, we provide essential support, guidance and education to anyone affected.
"After leaving hospital, accessing the charity's services can be a lifeline, leading to optimal recovery and reducing the long-term effects. Just £35 can support one person in crisis; £115 will prevent social isolation for five services users, a common consequence after brain injury." 

So why did Ian and Andy decide to partner with P.A.U.L For Brain Recovery for 2022? Ian Nicholls says:
"We are delighted to be working with Paul and his team this year, and are looking forward to hosting a successful sportive following a frustrating two-year enforced break!
"Andy and I met Paul when we first supported the charity back in 2019, and we were both immediately impressed, not only by the story of his recovery, but also his motivation to improve the lives of others who have suffered a brain injury.
"Over the last few years, I have got to know Paul as a friend, and have learnt to be very cautious in my use of the word "challenge" – a passing remark about cycling the C2C [Coast to Coast] in one day led to sleepless nights before the 170-mile ride, but as Paul would say, "we smashed it lads", had great fun, and raised a huge amount of money along the way.
"It's a privilege to work together, and we know for sure that the money raised will be used to maximise the progress of those recovering from life-changing brain injury."
To enter, please click on the red enter now button on the homepage of the Humber Bridge Sportive website, where you will also be able to find out more about the event. We'd love to have you onboard!
You can also follow us on Facebook here.