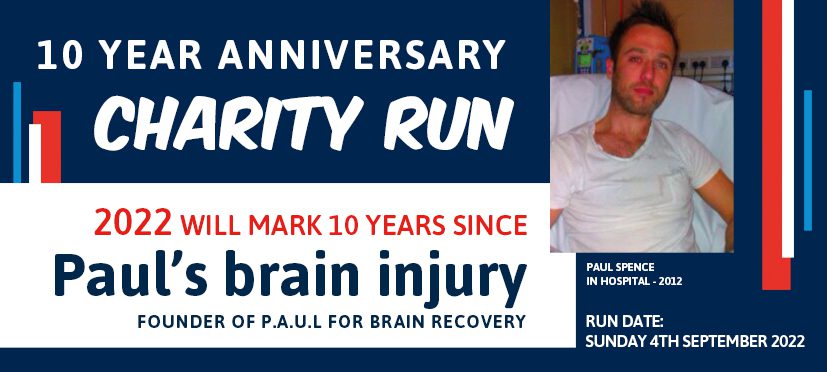 As part of our well-loved annual 10K running event, P.A.U.L For Brain Recovery will be marking the 10 year anniversary of founder Paul Spence's brain injury, by bringing back the HALF MARATHON.
On Sunday September 4th 2022, we will be offering supporters the option of running a half marathon or the usual 10K distance. All to raise funds to help individuals and families get the community support and guidance they need after brain injury.
In 2012, Paul was the victim of an unprovoked attack and despite suffering a brain haemorrhage and facing devastating consequences, this life-changing incident led to the charity's existence. Read more on Paul's story here.
WHY WE ARE BRINGING BACK THE HALF MARATHON
If you've followed Paul's recovery journey, then you may remember that one year after his injury, he organised a half marathon to raise funds for the Neurosurgical Ward, Hull Royal Infirmary. Over 70 fantastic supportive friends, family and community members took part. Since then, a 10K fundraising run has followed each year, with all events collectively raising over £64,000, with over 1,450 people taking part.
In 2022, we're bringing the original HALF MARATHON back!

GET INVOVED – follow these 2 steps:
SECURE your running spot CHOOSNG your distance:
– 10K sign up here
– Half marathon (21K) sign up here
FUNDRAISE online – here
WHY GET INVOLVED
You can play a vital role in positively changing lives in our community. By getting involved in this event, your kindness will ensure that more people can get the help they deserve after brain injury. Sessions and activities ultimately help service users to:
Avoid crisis
Manage a life-changing disability which can often be 'invisible' to others
Learn to accept that they have a chronic condition
Feel understood and supported amongst new friends that share a similar lived experience
Have an improved quality of life and reach their new potential
Find out more about how you're fundraising will change lives here and be part of something fantastic in our community – join our 10 Year Anniversary Run.